Home
> Career Opportunities
Meet The Makers
Meet the Jim Lawrence Photographer
At Jim Lawrence, we are fortunate to have a skilled and dedicated in-house photography and marketing team who ensure everything from our packaging to our magazine adverts and showroom signage is as luxurious and pristine as the products themselves. This week we're in our Marketing Hub in Suffolk, where we take our product imagery, design all our brochures and operate the website. We speak to Chris who is our in-house photographer.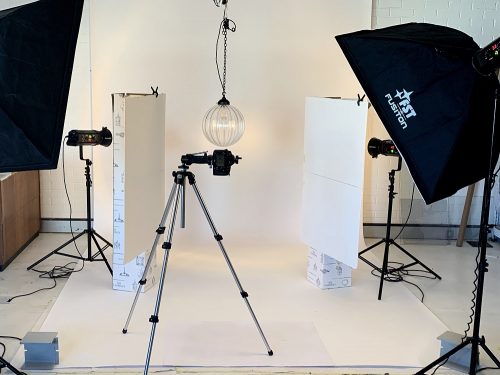 What does a typical work day look like?

Chris: "We start at 8.30, grab a coffee, check our schedule for what jobs need to be done and get stuck in. We have weekly meetings with the web team – who we share an office with – to plan ahead and are constantly skyping Grace, who organises our social media and PR, to see what they need us to do.
We're very lucky to have an in-house studio that doubles up as our office, so most days I will be photographing products and editing the images ready to use on the website, as there are always new products that need to be added to the range or old ones that need updated imagery to keep them looking new and fresh. Sometimes I will go on location shoots around the country to set up shots for our new brochure or Spring, Autumn and Christmas adverting campaigns."
Being a part of the creative and interiors industry is a sought-after career! How did you each get into photography and design, did it start as a passion that transformed into a job?

Chris: "My dad was a press photographer who often took me out on jobs and I was always helping him out in the dark room, so I grew up with it. I did a diploma in photography and video and then got a job as a technician with the Evening Gazette in Colchester before working as a press photographer with the Essex Chronical for many years."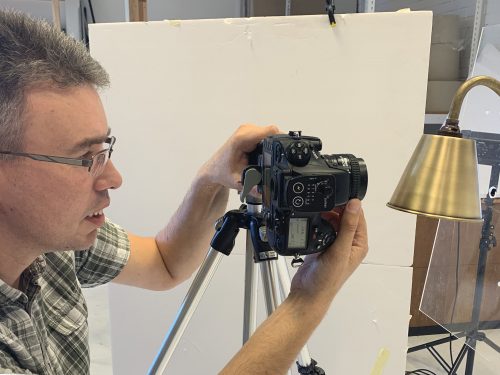 How have your roles and responsibilities changed as the company has grown?

Chris: "I think that with a small company you have to be adaptable and be prepared to do anything which always keeps things interesting. I started off doing just white web photography but have since been called upon to help set up the stand we use at shows like the Chelsea Flower Show. I've also started going on locations to set up shoots and have recently found myself making display boards for the Hadleigh showroom and Bath shop."
When it comes to styling a lifestyle shoot in the studio, it's a bit like curating a display area at home. How do you ensure the products are made to look as appealing as possible so the idea translates into real people's homes?

Chris: "In our studio we're a lot more limited with space than when we're on location, so you have to be creative! The look is generally seasonal so I'll start off finding a backdrop and props what will work well with the products being shot and the time of year. We've recently finished the Autumn Edit for our Style Journal which features lots of spiced tones and burnt oranges with our brass and copper products. I shot them against a grey backdrop with pinecones, dried wheat and our Samworth Oil Lamp to give it a harvest look. Neutral backdrops are generally better as they don't date, translate well to most peoples' homes and it gives a clean, fresh look that complements our finishes."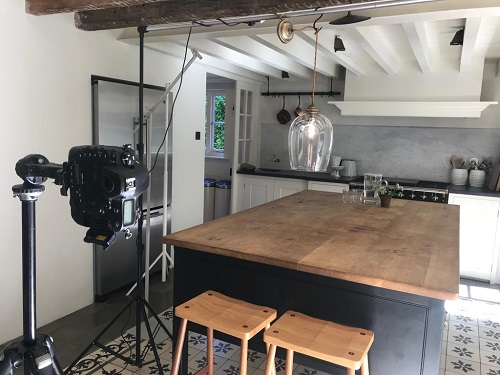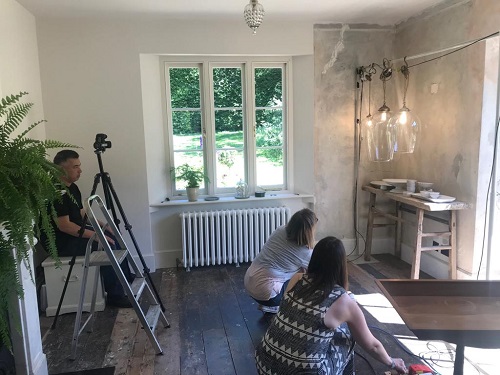 How do you scout the best locations for brochure shots outside of the studio?

Chris: "Back in the day we used Jim and Sheena's house, or that of a member of staff who whose house has period features. Nowadays we'll search for locations online, in magazines or use agents and often, they come to us by word of mouth or are places we know of locally. Cassie will have an idea of the theme she wants based on the season and interior trends and we'll search for a location that fits. Ideally, we want somewhere with lots of space that we can style for different themes. For example, a room with a large fireplace and wooden panelling lends itself to shooting formal wall lighting; a kitchen with Victorian features works brilliantly with our pendants and porch lights, while an outbuilding, stable block garden with brick or stone walls is ideal for outdoor lighting. Places with interesting architectural features are always great as a backdrop.
Our brochures are known to embrace classic design with a modern country freshness which is of course jam packed with lovely images. Where does the inspiration for these photographs and styling come from?

We've got a lot of products on the Jim Lawrence website. Which are the most enjoyable to work with and shoot?

Chris: "I love the big, showstopper lights that we make such as our Montgomery and Sussex Pendant Lights as they look fantastic wherever you hang them. You can see the skill of the craftsmanship in the detail and they pick up light beautifully."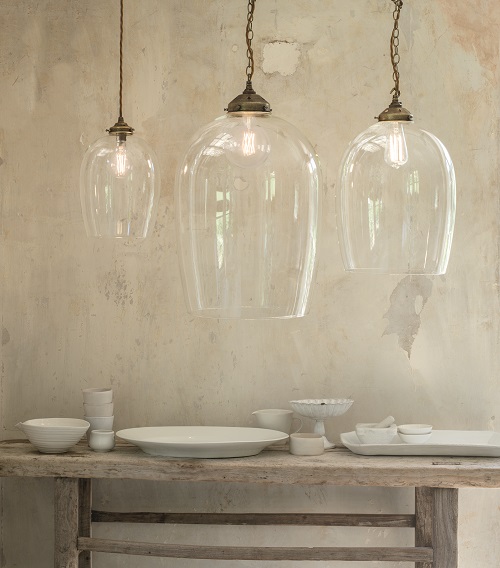 What exciting projects (that we can talk about!) do you have on the go at the moment?

Chris: "Jim Lawrence is opening a new shop in Bath at the end of this month so we've got all hands on deck working on that at the moment. There's an incredible amount of work to do getting all the display boards sized up and mounted correctly and making sure all our products are displayed in the right place, in the right finish, with the right labels and accessories. There are over 4,000 of them!

Finally, many of our employees have been here long term, including most of you! What's the best part of working for a family business like Jim Lawrence?

Chris: "I think it is because we work as part of a small team, we're all good friends and our working environment is as relaxed as it is hardworking. Everyone is approachable and we all understand and appreciate what each of us brings to the job. I also love the fact you never know what is going to be thrown at you. One day I could be taking photos in the studio, the next I could be setting up the stand for Chelsea, cutting templates for a display or drilling holes to wire up lighting."